Blog Post
What calibrator is right for you? Points to consider when making your selection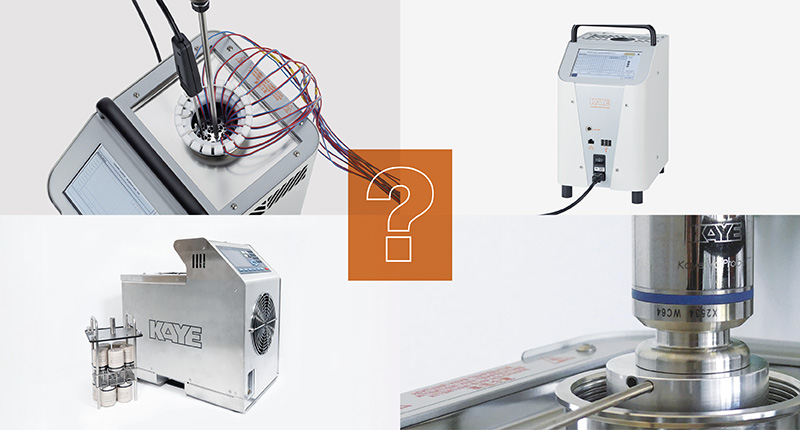 While it might not get as much publicity as validation equipment, your calibration equipment is a critical part of any viable thermal validation system. Having the proper equipment, equipment that you can trust, is essential. There is no place for inconsistent measurements in pharmaceutical and biotech industries, accuracy is key. It is essential to ensure that your validation system provides accurate information, and this is where calibration plays a crucial role in guaranteeing precise measurements. At Kaye, we offer a large variety of calibration equipment, and our goal is to offer everyone a solution that can fit their needs. In this blog post, we are going to look at some of the basic information to consider when selecting calibration equipment.
When you are performing a temperature calibration, the basic idea is that you are comparing the data that your sensor reads with the data that a traceable device gives you. That is where Kaye's IRTD-400 comes in. This is a highly recommended device for anyone performing temperature calibration. This serves as the benchmark against which your sensors are calibrated and verified. Kaye's IRTD-400 boasts exceptional traceability, as each Kaye IRTD undergoes factory calibration in one of our ISO 17025 accredited labs by a team of expert professionals. This ensures that the device is not only precise and accurate but also fully traceable, satisfying all your calibration requirements.
When it comes to temperature calibrators, one of the first points to consider are the temperatures required to run your calibrations and verifications. In a normal calibration, several different temperature points are used to verify your equipment. But the temperatures that you use in one situation, such as a freezer setting, will differ from that of another situation, such as an oven or an autoclave. Therefore, consideration for your temperature range is one of the first points to determine. At Kaye, we offer a wide range of products that cover wide temperature ranges. Each offers advantages and are unique in their own ways. For example, the HTR-420, one of our dry block calibrators, can reach temperatures up to 420°C, but only as low as 30°C. So, if you are planning on calibrating for colder environments, this would not be the best calibrator for you.
Another point of consideration, how many sensors are you planning to calibrate at a time. Each of our calibrators can calibrate different amounts of sensors, including multiple IRTDs. Some of our calibrators are designed to allow you to calibrate numerous thermocouples at the same time, while some are designed to allow you to calibrate several data loggers at once. So, you should consider the type of sensors and the number of sensors that are going to be part of your calibration.
One point that is not always fully considered for equipment selection is where your equipment is going to be used, depending on your sensors and application. At Kaye, we offer both a dry block calibrator, the LTR-90, and a liquid bath calibrator, the CTR-25, that are more portable than other calibrators that we offer. Consider the stability and uniformity of the bath or calibrator when determining which one to use. Utilizing digital communication between the bath/calibrator, the temperature reference (IRTD), and the validation system offers substantial time savings during daily use of the automated system. Additionally, it minimizes the risk of manual errors as all values are digitally transferred, eliminating the potential for unwanted errors caused by human intervention. With their overall design and weight, these calibrators give you a great solution if you need to be "on the go" when you are completing your calibrations. Having the ability to easily move your calibrator around a large facility is something that can be a great advantage to have, and Kaye offers a great solution for that.
A great way to simplify and secure the calibration process is using special accessories for the Kaye LTR-150 and HTR-420, which hold the temperature sensors in place during calibration. These accessories ensure proper positioning and stability of the sensors, enhancing the accuracy of the calibration process.
The information contained in this blog post is designed to give you a basic idea of considerations before purchasing any calibration equipment. Kaye offers you another great resource to guide your equipment selection process, our global team of account managers. The best move that you can make when you are considering the purchase of any validation or calibration equipment is to reach out to your local Kaye account manager. They will work with you, learn your needs, and find the right solution for what you need. Our account managers are knowledgeable, professionally trained, and ready to assist you at any time!
If you would like to learn more about all of the calibration equipment that Kaye offers, you can visit us online at anytime here: https://www.kayeinstruments.com/en/calibration-references/overview
To find your local Kaye account manager and start a conversation with them, visit our "Contact" page on our website here: https://www.kayeinstruments.com/en/contact
Copyright: Amphenol Corporation